TREATING COMPRESSION FRACTURES WITH
In-Office Kyphoplasty
The Huffman Clinic offers In-Office Kyphoplasty which can provide major pain relief for those suffering from compression fractures of the spine.
Many times, unfortunately, patients are unaware that the root of their pain is a compression fracture. Our team will start by finding an accurate diagnosis and treatment plan.
Kyphoplasty is a minor procedure to treat painful compression fractures. At Huffman Clinic, we can perform Kyphoplasty right in our office allowing you to avoid hospital visits and receive treatment within a few days of consultation.
Appointment Request

You will receive an automated email and text message confirmation that we received your request.
What is a Compression Fracture?
A compression fracture is a fracture of the vertebra that is associated with weak bone such as in osteoporosis. Often the fracture can occur with minimal trauma. Compression fractures can be very painful and lead to significant disability until they heal. For more on compression fractures, click here.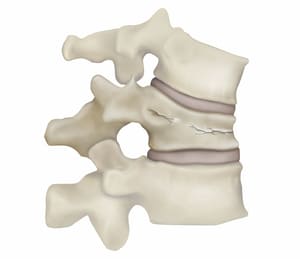 While most fractures will eventually heal, the period of decreased activity that occurs while waiting for them to heal can lead to considerable deconditioning. Deconditioning is very bad for elderly patients and the loss of function is something they may never recover from. Compression fractures treated with kyphoplasty will often feel better almost immediately, minimizing the recovery time and avoiding the deconditioning associated with prolonged recovery. Several long term studies have been done that demonstrate lower morbidity and mortality when patients with painful compression fractures are treated with Kyphoplasty compared to patients that are just given time to heal.*
Most kyphoplasties performed by Dr. Huffman are done in the office so there is no need to go to the hospital or the operating room. This is much more convenient than going to the hospital. Typically it takes little time to arrange so you may get the procedure within a day or two of your consultation. There is no IV required, you can eat before hand and you don't even have to change out of your own clothes.
Note* if you take blood thinners you will most likely need to stop them before the procedure, possibly for several days. Please inform Dr. Huffman and his staff if this is the case
What happens during in-office kyphoplasty?
Typically before you come to the office a mild pain medication or sedative along with an antibiotic sill be prescribed. You should pick these medications up at your pharmacy and take them as directed before the procedure. You should not drive when taking pain medications or sedatives so you will need someone to drive you to the procedure. Plan on being at the office for about an hour and a half.
Unlike surgery you may eat normally before an in office kyphoplasty. You will be advised to wear loose fitting clothing with no metal on it including zippers and buttons. For the kyphoplasty you will lay on your stomach and your top will be lifted to expose your back. If you wear appropriate clothing there will be no need to change into a gown.
Once you are positioned your back will be cleaned with a solution to kill bacteria on your skin. Using X-Ray guidance the broken bone will be identified and local anesthetic will be injected to numb up the skin and tissue down to the bone. A large needle will then be inserted through a very small incision and tapped into the bone. A balloon is then inserted through the large needle into the bone to make space and potentially restore the height of the compressed fracture. The balloon is then removed and bone cement that has the consistency of thick glue is injected into the space created by the balloon. The cement hardens very quickly and the large needle is removed. The small incision is closed by skin glue. After the glue is dry we will assist you in getting up and when you are ready you are free to go home.
What about doing a kyphoplasty in the hospital?
Some patients are less healthy or may need anesthesia for the kyphoplasty. In this case it will be scheduled in the hospital. The kyphoplasty itself is done the same way but you will need to show up about two hours beforehand to get registered and checked in. You will be asked not to eat or drink anything for several hours before the procedure. You will be given a gown to change into and an IV will be started to allow the anesthesiologist to administer anesthesia. After the procedure it may take an hour or two to allow you to wake up before you are able to go home. You will need someone to drive you to and from the hospital. Plan on being at the hospital for 4 to 5 hours.
How successful is Kyphoplasty?
Recent literature reviewing outcomes of kyphoplasty notes that at least some pain relief is reported in over 90% of patients.
What do you do after a kyphoplasty?
The day of the kyphoplasty we recommend that you go home and rest. There may be some pain from the procedure but it can generally be relieved with ice and rest. If you were taking pain medication prior to the kyphoplasty you can still take it afterwards if needed.
Often times patients will continue to have some pain even after the kyphoplasty. This may be due to the deconditioning that occurred between the time of the fracture and the time that the kyphoplasty was done. One way to minimize this is to get the kyphoplasty done more quickly which is a major benefit to doing the procedure in the office. It this occurs or if you just need help getting your strength we will often refer you to physical therapy.
Who should not have a kyphoplasty?
Kyphoplasty sounds so easy but it is not for everyone. First, it is done primarily to treat pain, so if you are not having much pain there is not much reason to do it. Second, kyphoplasty only works in an acute or recent fracture. If you have a fracture that is more than a couple of months old it may have healed but still cause pain. If a fracture has healed kyphoplasty will generally not help. An MRI or Bone Scan may be done to evaluate if an older fracture has healed. Third, some patients are on blood thinners and it is not safe to stop them even for a short period. Blood thinners significantly increase the risk of bleeding complications from kyphoplasty.
What are the risks of kyphoplasty?
Like any procedure there are risks with kyphoplasty. Review of the literature shows that bleeding is a potential complication. Bleeding around the spine can damage the nerves and may require emergency surgery to treat. There is also a risk of making the fracture worse when the kyphoplasty needle is tapped into the bone. There is a risk that the bone cement leaks and goes into the disc next to the fractured bone or more rarely into a blood vessel or the spinal canal. The large majority of cement leaks are asymptomatic. Like any invasive procedure there is a risk of infection. Overall the risk of major complication is very low and in my experience with over 500 kyphoplasty procedures the incidence of major complications is less than 1%.
Lastly, a note about osteoporosis and fracture prevention:
Compression fractures are usually caused by osteoporosis. Once you have had a fracture, you are at greatly increased risk of getting another fracture. If you have had a compression fracture or any other fracture from relatively minor trauma or if you have other risk factors, you should be evaluated for osteoporosis. We recommend that you discuss this with your primary care physician. In addition to good nutrition and weight bearing exercise, medications have been shown to lower the risk of fractures. You should also try to avoid falls by cleaning up anything in your home that might trip you, using night lights and consider using a cane or a walker if you are unsteady. If you have balance difficulty, you could very well benefit from physical therapy for balance and gait training. Kyphoplasty is a great treatment for compression fractures but the best thing would be to avoid getting a fracture in the first place by taking as many precautions as possible.
"My husband, Mom and I have been patients of Dr. Huffman's for quite a number of years. The BEST spine surgeon in the county! He has operated on me twice in the past year with amazing results. Would highly recommend this gifted man."
- Vivian B., Facebook Review
"I have been a patient of Dr Huffman's for many years, with some major back issues. The care I received (and still receive) is exemplary. Staff members Sarah and Dawn are amazing. I wouldn't go anywhere else."
- Deborah N., Facebook Review
"Dr. Huffman is by far the best spine surgeon for so many reasons. I have worked for him, with him and been apart of his surgeries with assisted fluoroscopy. He is brilliant, dedicated and really cares about his patients. That said why would anyone go anywhere else. Did I mention he loves gummy bears, who doesn't love that."
- Sheila B., Facebook Review